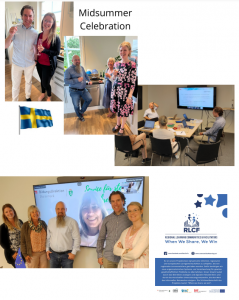 The halftime transnational project meeting for the RLCF project took place at Frida Utbildning's main office in Vänersborg, Sweden. The Transnational Project Meeting was carried out both onsite and online with participants Veronica Sülau, Jesper Grönlund and Karin Helmerson from the hosting organisation Frida Utbildning AB, Laura Reutler from the project coordinator bit management Beratung GesmbH, Gerhard Doppler from Future Balloons, unipessoal, lda and Maria Pichlbauer from Vereint für Europa und Bildung, BD Steiermark (online). The hosting organisation initiated the meeting by offering a cultural exchange and an introduction to Swedish Midsummer with food and traditional music.
Project coordinator Laura Reutler, bit management, led the meeting in a structured and efficient way to fit all the points of the agenda in during the day. After the exchanges about the cultural experience the evening before, the introduction to the meeting and its main aims were made. The vision of the project is to create vibrant local, regional and European learning communities supported by regional learning facilitators. The project aims to promote learning communities and cooperation on all levels through a collection of best practice examples, online learning material and a matching and collaboration platform.
During the meeting, past tasks and events were evaluated and discussed as were the current status of ongoing tasks and the next steps for the project's Intellectual Outputs. In addition to the project results summary and the timesheets, this part was gone through thoroughly in order to be the basis for the project interim report. Then, the current status, delegation and time aspect of ongoing and future tasks were discussed. These included:
IO1 – Future vision on European cooperation in Education – the report from  Feedback circles on Best practice with existing learning communities and the work on the Final Policy paper to be disseminated and presented to key decision makers as widely as possible. In connection to this, the most useful platforms and efficient ways for dissemination of the project activities and results were discussed.
IO2 – Curriculum for learning community facilitators – the unit work continues and plans were made for the first upcoming LTTA  hosted by Future Balloons in Portugal 26-30 September 2022 with participating teachers and project staff from Frida Utbildning AB and BD Steiermark.
IO4 – Matching and Collaboration platform – there was a fruitful workshop on the selection of the most relevant survey questions for a successful matching process.