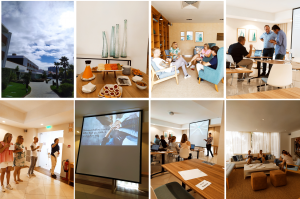 O LTTA (Learning, Teaching, Training Activity) no âmbito do projeto Erasmus+ Regional Learning Communities and Facilitators, realizou-se entre os dias 26 e 30 de setembro de 2022 na bela cidade costeira da Figueira da Foz, Portugal, sendo a Future Balloons, a empresa organizadora e anfitriã do evento.
Tendo como principal objetivo testar o CURRÍCULO DE FACILITADORES DE COMUNIDADES DE APRENDIZAGEM, os 24 professores austríacos e suecos participaram de forma ativa e empenhada no evento.
Foram abordados alguns módulos do currículo, nomeadamente: Organising for Clarity, Participation, Cooperation, Sharing e Organising and Designing (Regional) Learning Events, apresentados pelos parceiros do projeto. O projeto promove comunidades de aprendizagem e cooperação, com uma plataforma online, com exemplos e materiais didáticos para desenvolver comunidades facilitadoras de aprendizagem. Foi um momento de grande partilha, de exploração cultural e aprendizagem individual.